PECO stands for Plastic Essence Collaborative.
Our vision is to reimagine our relationship with plastic through conscious collaborative creativity.
Our designs are stunning. Our process is a world's first.

1. Collecting and Sorting
We work with everyday household plastics like LDPE (♻4), HDPE

(♻2) and Polypropylene (♻PP). Our Collaborative Collection involves our customers: after they buy one of our designs, we send them a box to fill with their own plastics which we receive and use as part of their final piece of art. We also work with corporate partners for our larger pieces.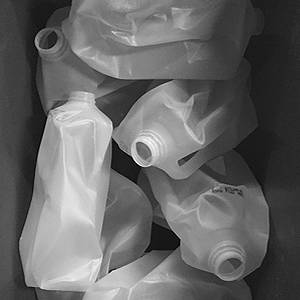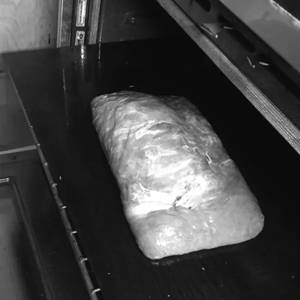 2. Melting
The melting process is very similar to making bread; patience is a virtue, timing and temperature are key. In this kitchen a gas mask is a must as vapours can be toxic. Luckily, we keep temperatures under the smoke point and use only HDPE, LDPE and PP which have the lowest potential of creating noxious fumes if burnt.
Once turned, each loaf is individually pressed and made smooth via router and sanding. We press the plastic to about 3/4 inches thick to keep room for routering a layer off the top. This press was based on a traditional book press hand made from elm wood which is strong enough to withstand the intense pressure exerted from the four vices.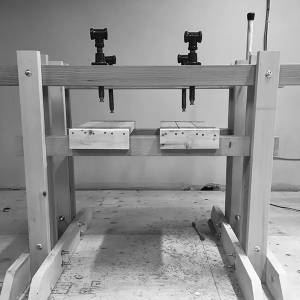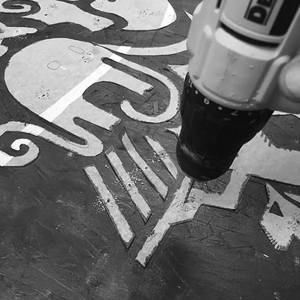 Each unique design is drawn and copied to scale. Every scape is individually cut out of the plastic pressed plates, refined and stud mounted against a wood backing. The final piece is elevated from the backboard to take advantage of light and shadow.
Hand-Crafted

Reused Plastic

Collaboratively Sourced

Made in Canada
PECO recognizes that we are on the ancestral and unceded homelands of the hən̓q̓əmin̓əm̓ and Sḵwx̱wú7mesh speaking peoples and are grateful to be on this territory.